Co-Directors
Volker Musahl, MD
Blue Cross of Western Pennsylvania Professor
Chief Sports Medicine Medical Director
Professor of Orthopaedic Surgery, Bioengineering, and Clinical Translational Science Institute
Richard E. Debski, PhD
Professor
William Kepler Whiteford Faculty Fellow
Departments of Bioengineering and Orthopaedic Surgery
Mission
The Orthopaedic Robotics Laboratory was formed in 2012 as a collaborative effort between the Department of Orthopaedic Surgery in the School of Medicine (chairman Dr. Freddie H. Fu) and the Department of Bioengineering in the Swanson School of Engineering (chairman Dr. Harvey S. Borovetz).
The mission of the ORL is the prevention of degenerative joint disease by improving diagnostic, repair, and rehabilitation procedures for musculoskeletal injuries using state-of-the-art robotic technology. Thus, diarthrodial joint function will be elucidated and the roles of the bony and soft tissues assessed. The technology in the laboratory includes novel robotic systems and the lab will serve as a multi-disciplinary CORE facility with collaboration promoted between investigators. Under the direction of Drs. Musahl and Debski, research fellows, medical students, graduate students and undergraduate students have the ability to participate in research related to musculoskeletal injuries with emphasis on soft tissue injuries at the knee and shoulder.
Robotic Technology
The MJT Model FRS2010 is a six-axis test robot with a compact workspace and high stiffness. The hybrid control system that uses position and force feedback is quite robust and allows a wide range of applications. Operators can modify every control parameter for their desired purpose. Thus, the MJT can be customized easily. Other advantages of the MJT Model FRS2010 are portability, low maintenance costs, universal programming language, and realistic loading conditions. This robotic technology can also be used to examine the function of multiple joints such as the knee, glenohumeral joint, acromioclavicular joint, spine, elbow, hip and ankle.
These capabilities are enhanced by supporting equipment that can measure joint contact pressures; tissue deformations and forces during joint loading; and tissue properties. State-of-the-art fluoroscopy, ultrasound, and arthroscopy system are available. In addition, the laboratory includes the Shoulder Testing Apparatus r4 (STAR4) that allows simulation of muscle forces at the glenohumeral joint and measures resulting motion and joint contact forces. Recently, this device has been upgraded to include the capability to test knees.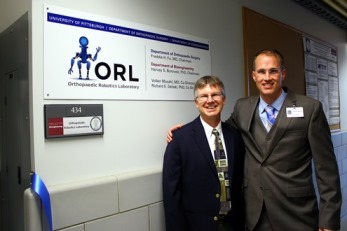 Recent News
---
ORL meetings and events:
---
Summer Research Abstracts
---
Copies of the ORL Undergraduate Summer Research Abstract Books: