Past Projects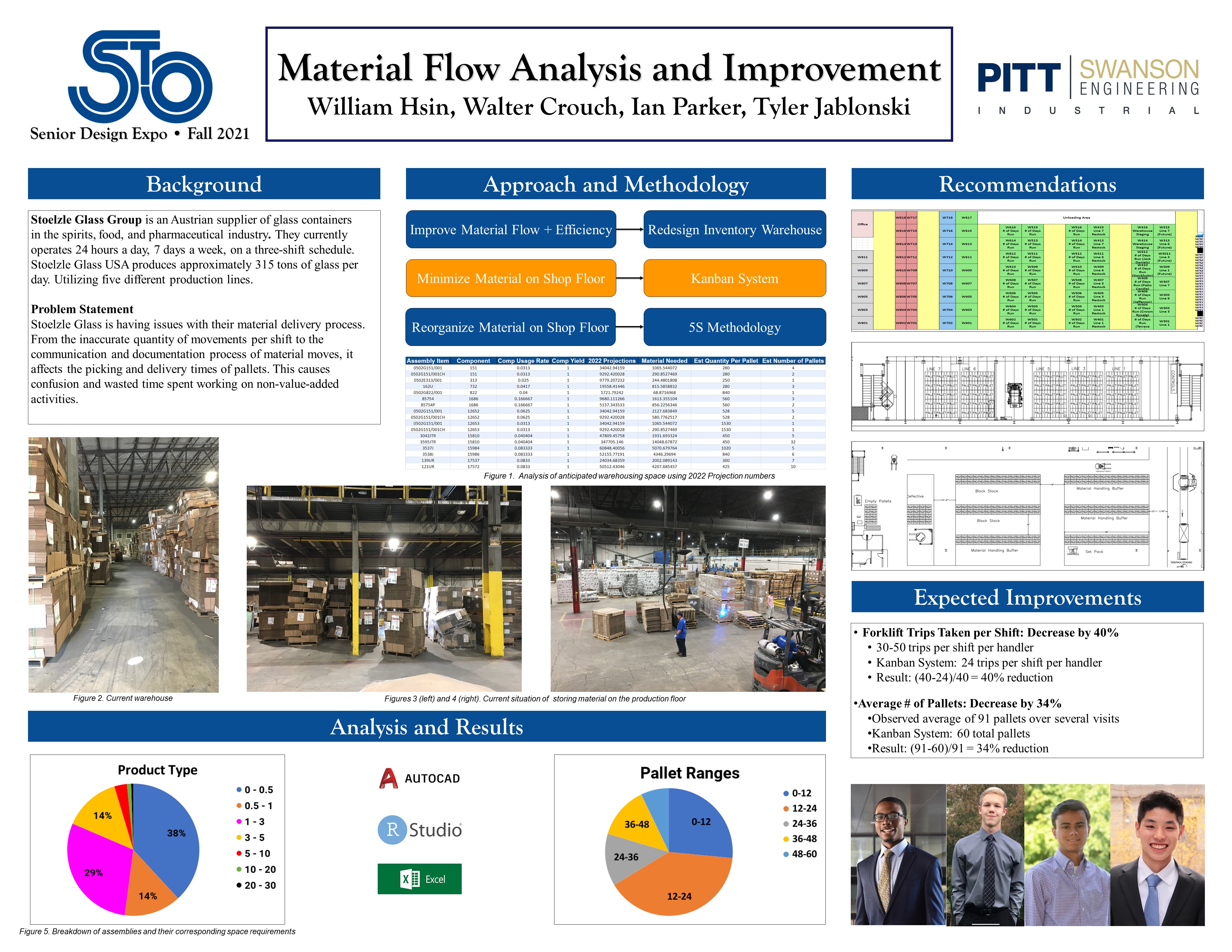 Project Summary
Stoelzle Glass is having issues with their material delivery process. From the inaccurate quantity of movements per shift to the communication and documentation process of material moves, it affects the picking and delivery times of pallets. This causes confusion and wasted time spent working on non-value added activities. For our approach, we decided to focus on three simple aspects that would have the biggest impact. To be able to implement easy solutions that would be flexible to change and fully supported by sound analysis. In regards to the main findings, we found that there is a lack of visibility when it comes to the flow of material. This refers to the delayed key in of material moves into Oracle that creates uncertainty in how much and when material is needed. This results in the disorganization of inventory and excessive amount of packaging materials on the production floor. Consequently, this eventually leads to inefficiencies in transportation and inventory management, negatively affecting overall material flow in the facility. For our recommendations, we believe in implementing a new inventory warehouse, a Kanban system, and 5S methodology to solve these issues.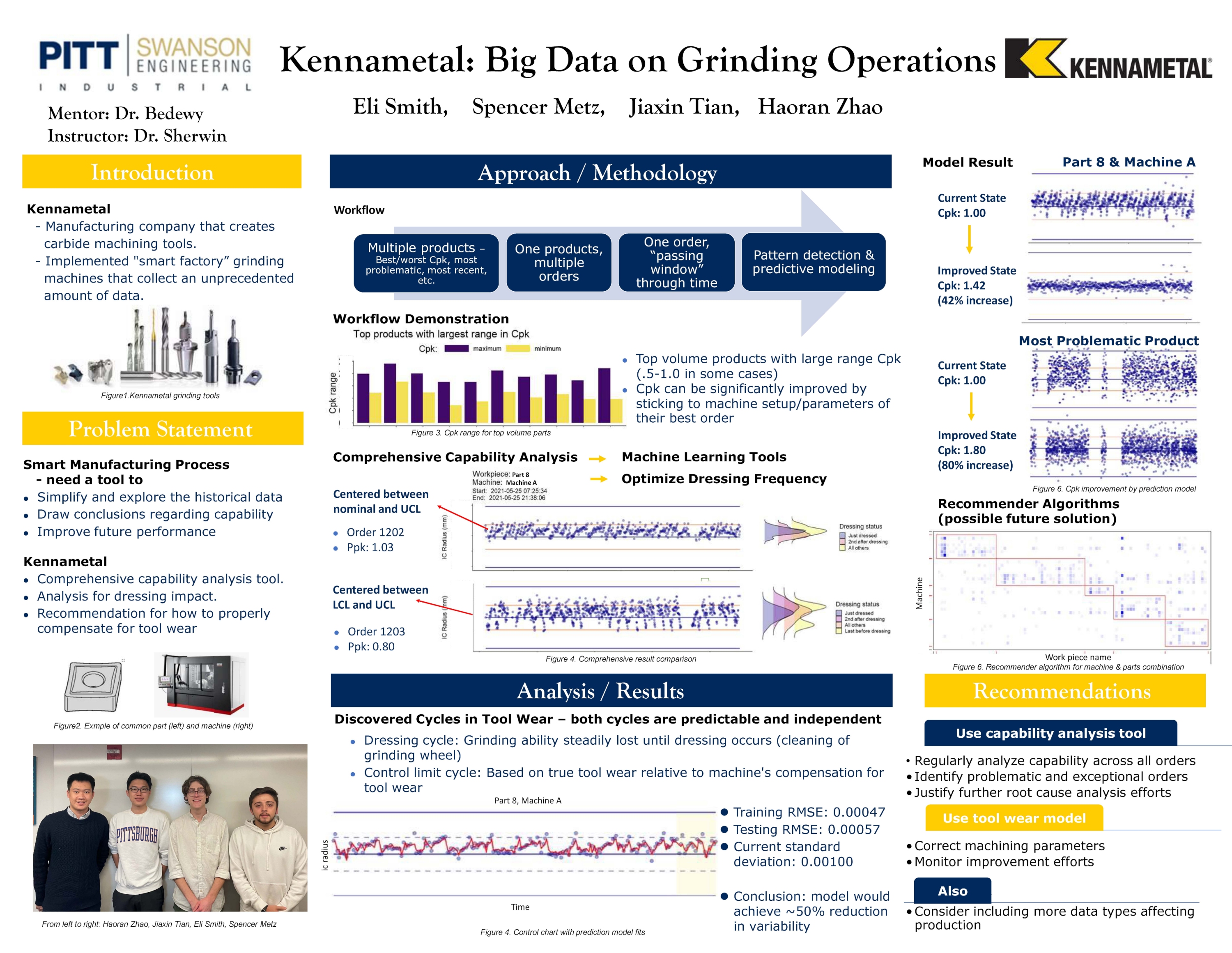 Project Summary
This semester we worked closely with the data and quality team at Kennametal. Kennametal is a manufacturing company that creates carbide machining tools. They have recently implemented "smart factory" grinding machines that collect an abundance of data that can be overwhelming and impossible to draw conclusions from. A system is needed to allow Kennametal to simplify and explore their historical data, draw conclusions regarding capability, and understand patterns that can be used to improve future performance.​ To address this problem, we created a suite of tools that gives the user a complete picture of their process.
Functions of System:
Easy preprocessing functions to correct the input data from machines immediately
Current state analysis displays
Comparative visuals to help identify processes of interest
Ability to zoom in to the machine, part id, order, or piece level
Analysis at the part-by-part level to give insight into sources of variability
This tool will be used by Kennametal to better understand their grinding processes and act as a basis for future root cause analysis projects. Using our system, we found one major source of variability and were able to explain the mature of the source. In grinding operations, tool wear occurs rapidly and must be compensated for. Currently, the grinding machines use two compensation cycles that act independently of each other but do not account for how the process changes when their resets occur simultaneously. We found that if possibility of simultaneous resets is accounted for, Kennametal can increase capability of their highest volume processes by up to 96%. In the few cases we explored, we found opportunities for major improvement in Kennametal's manufacturing process using this system. We recommend Kennametal applies this system to their entire manufacturing process to find and explain other sources of variation in their processes.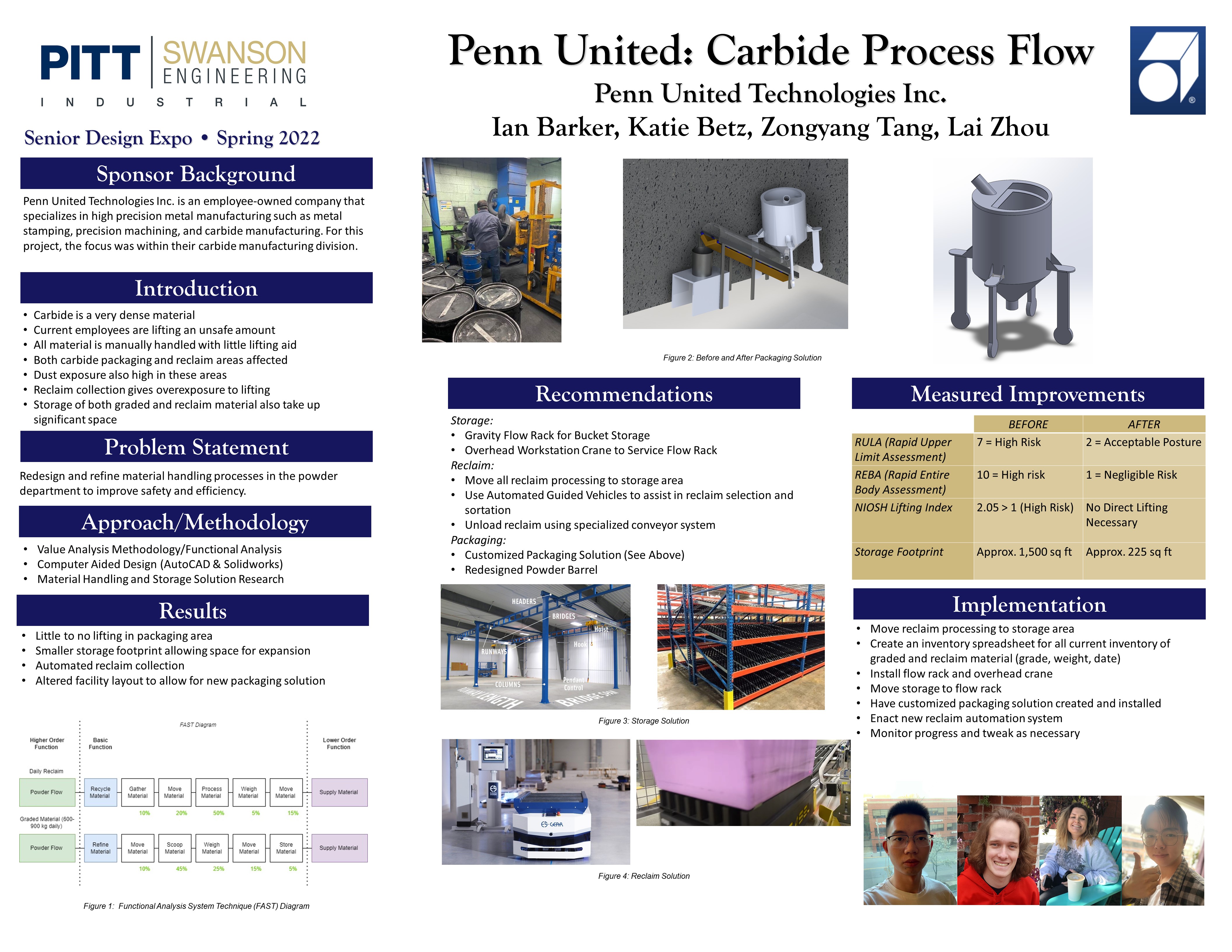 Project Summary
This semester our group worked with Penn United Technologies Inc., an employee owned high precision metal manufacturing company. We worked specifically with their carbide manufacturing division in the areas where they package and reclaim their graded material. Our problem statement is as follows: To redesign and refine material handling processes in the powder department to improve safety and efficiency. Currently in there areas, employees are at risk for ergonomic related hazards due to lifting overexposure and unsafe lifting loads. In addition to reclaim and packaging, storage reorganization was also necessary to allow for more working floorspace.
We were able to break up the three problem areas, storage, reclaim and packaging into three separate recommendations. Within storage we recommend implementing a gravity flow rack and a workstation crane to decrease the storage footprint from approximately 1,500 sq ft to 225 sq ft and provide aided lifting in the storage area where there previously wasn't any. For reclaim, we recommend moving all reclaim processes into the same area to concentrate all equipment together and provide space for the new packaging solution. We also recommend the use of automated guided vehicles to automate the process of reclaim pickup which reduces employee overexposure to heavy lifting. Lastly, we redesigned the packaging process so that material is loaded into buckets using a conveyor system which removes the necessity for any heavy lifting. Before implementation, RULA, REBA, and NIOSH scores for the lifting done in the area indicated that employees were at a very high risk of erogonomic hazard. Should Penn United move forward with our solution, little to no lifting would be required within this area.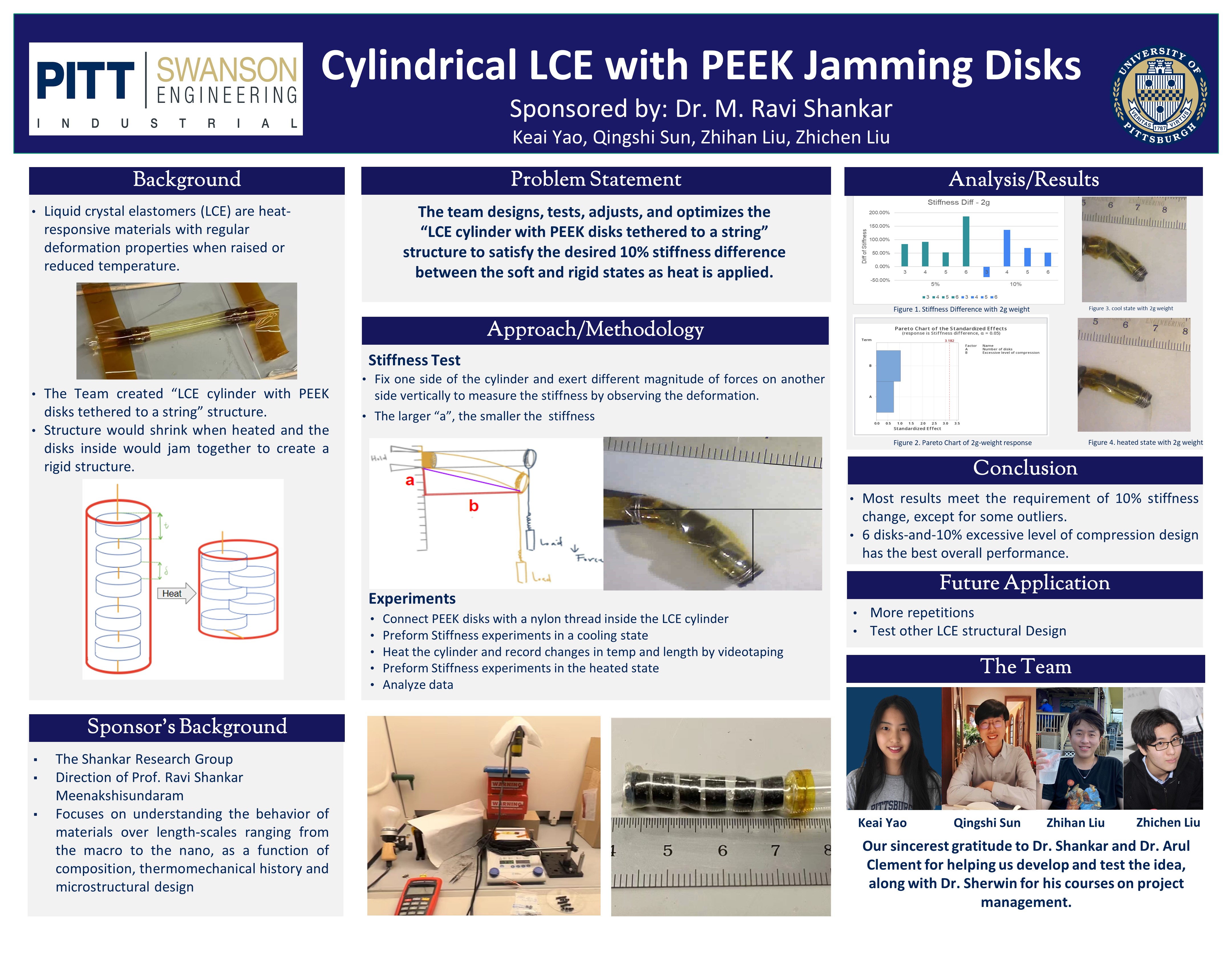 Project Summary
The ability to regulate the mechanical stiffness in a large range could be crucial for soft robots to conform, grasp, and move while interacting with the environment. Stimuli-responsive materials can be used to achieve shape morphing. Liquid crystal elastomers (LCE) are heat-responsive materials with regular deformation properties when raised or reduced temperature. Polyether ether ketone (PEEK) is a semicrystalline thermoplastic with excellent mechanical and chemical resistance properties that are retained to high temperatures.
In this project, our team designs, tests, adjusts, and optimizes the "LCE cylinder with PEEK disks tethered to a string" structure. Our team successfully demonstrated that when heat is applied to the structure, it would shrink in the axial direction, and the disks inside would jam together to create a rigid cylinder. When heat is removed and cooled, the structure returns to its original versatile state. Our desired goal was to satisfy at least a 10% stiffness difference between the soft and rigid states through jamming phenomena.
Our team was able to design a series of 12 experiments. We mainly explored two independent factors, the number of disks and the level of excessive compression, and found the relationship between these factors and stiffness difference. Through our experiments, we are confident that when weight is applied to our structure, at least 10% stiffness change requirement is met, with stiffness differences varying from 37.93% to 185.85%. The structure with 6 PEEK disks in the LCE with a 10% excessive level of compression design has the best overall performance. More replications can be conducted to increase the stability and accuracy of the results in the future.
Our project provides a heat-responsive system that changes stiffness on command repeatedly. This opens the door for a variety of soft robotics and applications in different industries.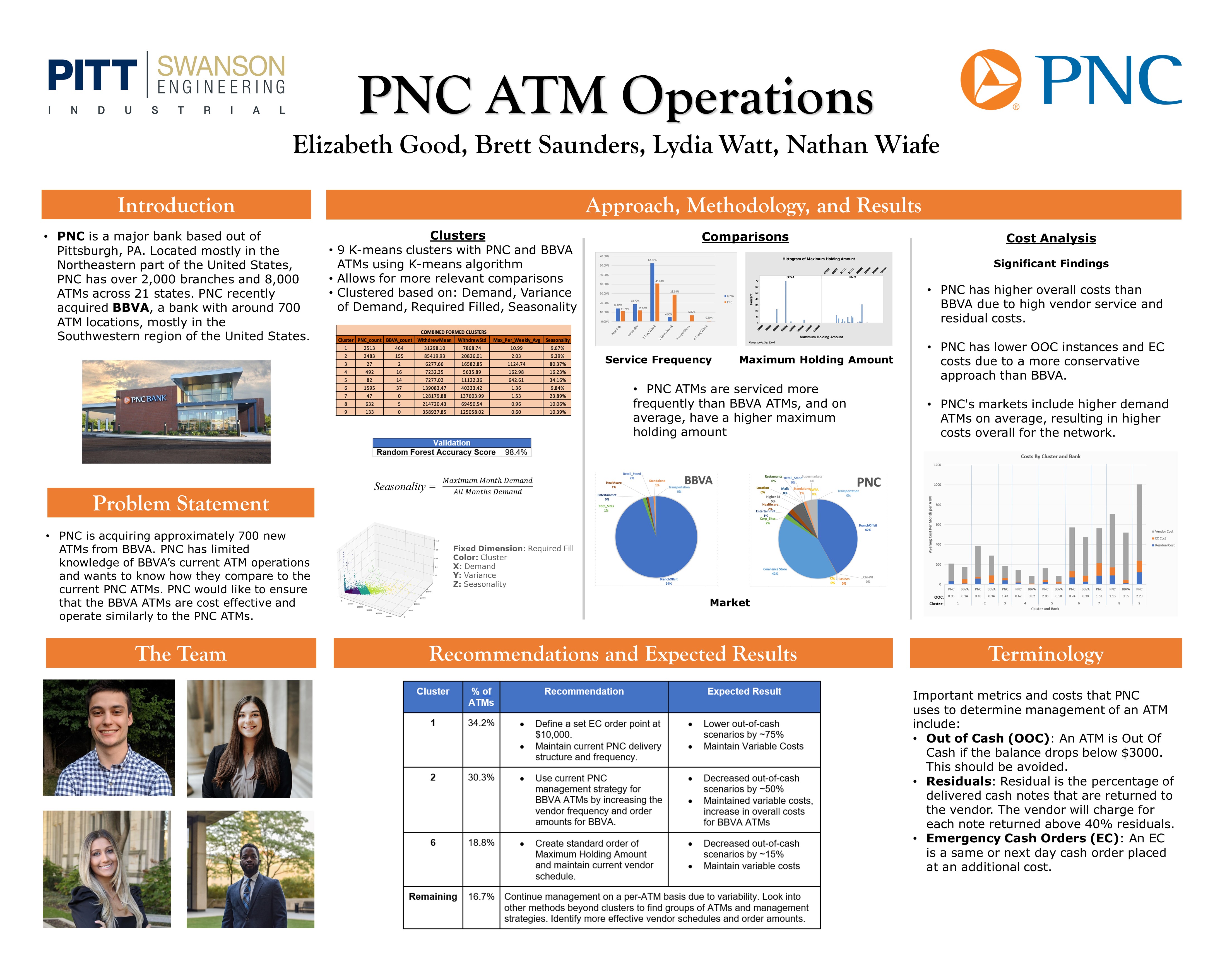 Project Summary
PNC recently acquired approximately 700 new ATMs from BBVA, and would like to ensure that the BBVA ATMs are cost effective and operate similarly to the PNC ATMs. In order to successfully integrate the new BBVA ATMs into PNC's current ATM network, PNC has assigned the team the task of comparing both ATMs in terms of maximum holding amount, service frequency, market, demand distributions, and residual percentage distributions, as well as performing a cost analysis between BBVA's ATMs and PNC's ATMs.
To begin the comparisons, the team clustered the BBVA and PNC data together according to the K-means cluster method in R. From the cluster analysis, it was determined that 83% of all ATMs fell into three significant clusters: 1, 2 and 6. Through the cost analysis, the team was able to conclude that the BBVA ATMs have less total cost than the PNC ATMs, which is attributed to lower demand. Due to this, BBVA has a more aggressive approach to cash handling and relies more on Emergency Cash Orders compared to PNC. In turn, PNC's conservative management strategy allows them to maintain less Out-of-Cash instances than BBVA but with higher total costs.
Using this knowledge and additional insight, the team suggests that PNC define a standardized emergency cash reorder point of $10,000.00 for cluster 1 ATMs. As for cluster 2, the team advises PNC to continue to manage the ATMs using the current management strategy and protocol and extend this management style to the recently acquired BBVA ATMs with similar performance metrics. Additionally, the team suggests increasing BBVA's vendor delivery frequency to improve overall ATM performance. Lastly, for cluster 6, the team suggests PNC use a standard order of the maximum holding amount for each ATM while maintaining the same vendor delivery schedule.