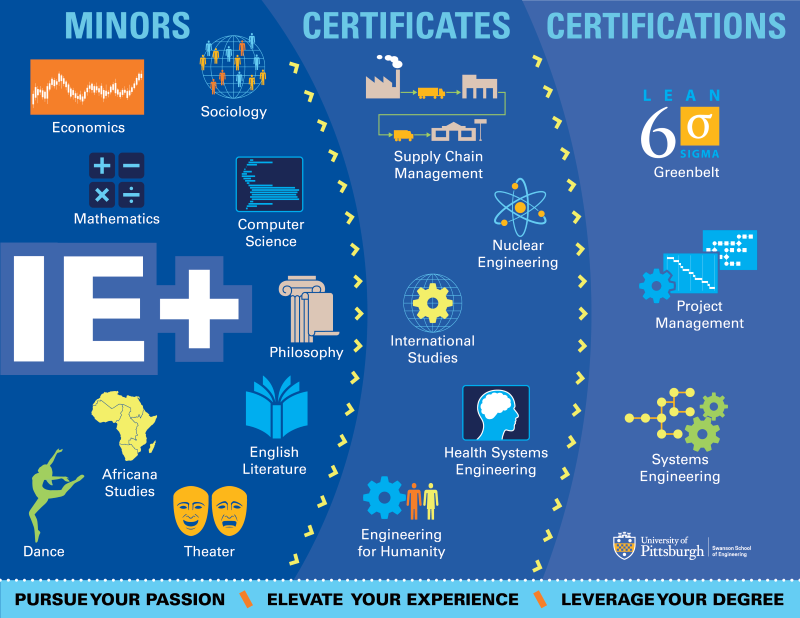 The IE+ program is designed to encourage our undergraduate IE students to earn a minor, certificate, or certification while completing their BSIE degree.
Myth: "The BSIE program has too many requirements and I cannot pursue a minor in something else that I am very passionate about."
Facts:
You can easily earn one of many available certificates without taking any additional credits beyond the 126 required for the IE degree.
If you plan correctly you can also earn a minor by taking few, if any, additional credits.
Courses in areas outside of IE can often be used to satisfy the 18 required credits of humanities and social science electives or the 15 required credits of technical electives (that's as many as 11 flexible courses).
Why might you be interested in IE+? So you can….
Pursue a passion you might have in music, art, politics, sociology, sustainability, philosophy, or any of the many, many amazing areas in which Pitt offers courses.
Elevate your Experience.
Build your resume and Leverage your degree for a particular industry or organization.
Clarification:
• Minors – Degree programs, noted on diplomas and transcripts. Examples include (but most definitely are not limited to): Math; Economics; Sociology; Theater; Political Science; Applied Statistics; Philosophy; Computer Science; Gender, Sexuality, and Women's Studies; English Literature; Africana Studies; and Dance.
• Certificates – University or School wide programs, separate certificates are awarded, noted on transcript. Examples include our Supply Chain Management and Health Systems Engineering certificates but there's also the Sustainability Certificate and others offered by SSOE and the University.
• Certifications – provided by outside organizations, Examples include certification by the Project Management Institute (PMI) and the International Council on Systems Engineering (INCOSE), or the Lean Six Sigma Green Belt certification offered by several outside organizations.
Note that Concentrations are internal to the BSIE program and are not part of IE+
How can you be part of IE+?
• Figure out what interests you…what minor or certificate do you really want to go for and why?
• Check our web page or ask your advisor to help you determine if coursework required for that minor or certificate will satisfy elective requirements in IE.
• Plan it out…find out which terms the courses you need are offered and when you can fit them in your schedule…check for pre-requisites.
• Remember, as an engineering student you can often be exempt from basic pre-requisites for advanced courses in other areas.
• If there's a point of contact for the minor or certificate you are interested in, meet with or email them to get questions answered.
• If you need help enrolling in courses in other departments, email our undergraduate admin (ugradie@pitt.edu), who may be able to help you get a permission number or point you in the right direction.
Check out our IE playbook for more details on the program as well as links to information on some of the most popular minors and certificates.
For more information contact ugradie@pitt.edu