T32 Biomechanics in Regenerative Medicine (BiRM)
What is BiRM?
The Biomechanics in Regenerative Medicine Program is unique in its goal to integrate multi-scale biomechanics - including theory, modeling, simulation, experimental method design, mechatronics, robotics, AI, and advanced manufacturing - as applied to regenerative medicine. The goal of this training program is to prepare the next generation of biomechanists to tackle the mounting challenges facing healthcare
– to efficiently translate scientific discoveries in contemporary cell and molecular biology into safe and effective therapies. This goal is accomplished via a highly coordinated and mentored interdisciplinary training program with a combination of required and elective courses, research activities, and specialized training opportunities.
The proposed Training Program incorporates faculty from the Departments of Bioengineering, Cardiology, Mechanical Engineering & Material Sciences, Obstetrics, Gynecology & Reproductive Science, Ophthalmology, Oral Biology, Orthopedic Surgery, Surgery, Pathology, Periodontics & Preventive Dentistry, Physical Medicine & Rehabilitation, Plastic & Reconstructive Surgery, Urology, and the McGowan Institute for Regenerative Medicine of the University of Pittsburgh, as well as faculty from the Biomedical Engineering, Chemical Engineering, Materials Science & Engineering, and Mechanical Engineering Departments of Carnegie Mellon University. Their expertise spans a full spectrum from highly theoretical to computational to experimental to applied/translational.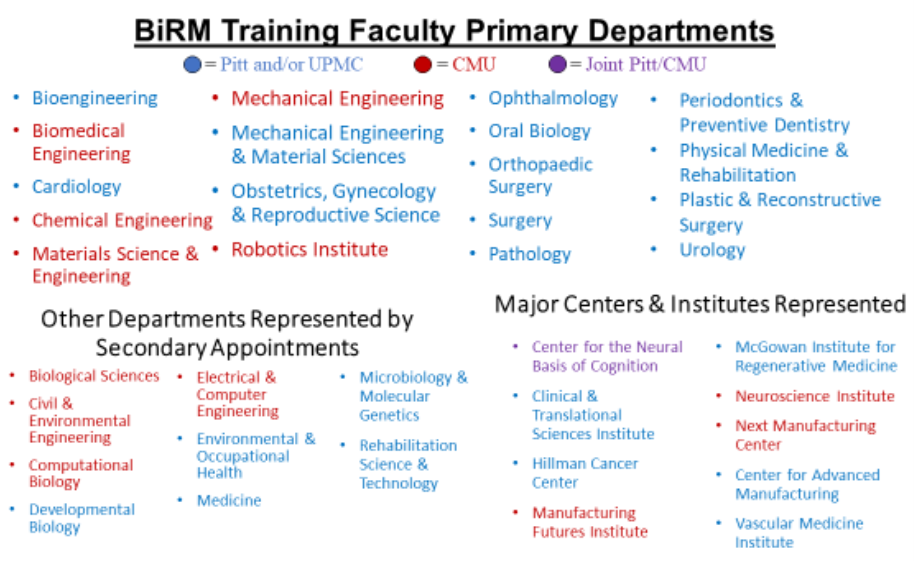 This combination of training faculty research interests and coursework will provide a rich educational experience and more numerous training opportunities for the students than could be obtained within the individual university departments. Moreover, the breadth of research areas that span various physiological systems (cardiovascular, musculoskeletal, dental, ophthalmic, urologic, gynecologic, neural) allows for a unique opportunity to train students to become highly skilled problem solvers while avoiding over specialization.
Since the BiRM training program is not central to any one department, this permits the trainee a much wider choice of options with which to pursue a PhD with foci in both biomechanics and tissue bioengineering/regeneration. In the current paradigm of graduate education, a PhD student in one department that wishes to perform thesis research in a laboratory in another department finds many departmental based administrative roadblocks in his/her path. The BiRM program eliminates these roadblocks and permit highly relevant and specialized educational and research options for its trainees.
Current Participating Faculty
University of Pittsburgh
David Vorp, PhD, PI
Savio L-Y. Woo, PhD, DSc, DEng, Co-PI
Steve Abramowitch, PhD
Alejandro Almarza, PhD
Stephen Badylak, DVM, PhD, MD
Michael Boninger, MD
Bryan Brown, PhD
Lance Davidson, PhD
Mo Ebrahimkhani, MD
Giuseppe Intini, DDS, PhD
Kang Kim, PhD
Katrina Knight, PhD
Pamela Moalli, MD, PhD
John Pacella, MD
Anne Robertson, PhD
Peter Rubin, MD
Warren Ruder, PhD
Charles Sfeir, DDS, PhD
Sanjeev Shroff, PhD
Ian Sigal, PhD
Tatum Tarin, MD
Gelsy Torres-Oviedo, PhD
Edith Tzeng, MD
Kenneth Urish, MD, PhD
Jonathan Vande Geest, PhD
James Wang, PhD
Justin Weinbaum, PhD
Ioannis Zervantonakis, PhD
Carnegie Mellon University
Keith Cook, PhD, Co-PI
Rosalyn Abbott-Beauregard, PhD
Christopher Bettinger, PhD
Phil Campbell, PhD
Tzahi Cohen-Karni, PhD
Adam Feinberg, PhD
Noelia Grande Gutiérrez, PhD
Eni Halilaj, PhD
Jana Kainerstorfer, PhD
Philip LeDuc, PhD
Carmel Majidi, PhD
Xi Ren, PhD
Cameron Riviere, PhD
Rebecca Taylor, PhD
Yu-li Wang, PhD
Victoria Webster-Wood, PhD
Jessica Zhang, PhD
BiRM Curriculum
General Courses
| Biomechanics (BIOMECH) Track | Tissue Engineering and Regenerative Medicine (TERM) Track |
| --- | --- |
| Applied Biostatistics (BioE 2525) * | Applied Biostatistics (BioE 2525) * |
| Methods in Applied Math (Math 2950) * | Methods in Applied Math (Math 2950) * |
| Societal, Political and Ethical Issues in Biotechnology (BioE 2241) * | Societal, Political and Ethical Issues in Biotechnology (BioE 2241) * |
| General Science/Engineering Elective 1 | General Science/Engineering Elective 1 |
Life Science Courses
| Biomechanics (BIOMECH) Track | Tissue Engineering and Regenerative Medicine (TERM) Track |
| --- | --- |
| Molecular Cell Biology & Biophysics I (BioE 2520) | Molecular Cell Biology & Biophysics I (BioE 2520) |
| Life Science Elective 1 | Life Science Elective 1 |
| Life Science Elective 2 | Life Science Elective 2 |
Related Courses
BIOMECHANICS (BIOMECH) TRACK:
Biomechanics Related
TISSUE ENGINEERING AND REGENERATIVE MEDICINE (TERM) TRACK:
TERM Related

Biomechanics 4: Biomechanics of Organs, Tissues, and Cells (BioE 2633)

Introduction to Tissue Engineering (BioE 2620)

Biomechanics Elective I* (BioE 2067 or 3025)

TERM Elective 1* (BioE 2810 or 2075)

Biomechanics Elective 2* (BioE 2081 or BioE 2721)

TERM Elective 2* (BioE 2220 or 2540)
BIOMECHANICS (BIOMECH) TRACK:
TERM Related
TISSUE ENGINEERING AND REGENERATIVE MEDICINE (TERM) TRACK:
Biomechanics Related

TERM Course 1 **

Biomechanics Course 1 ***

TERg Course 2 **

Biomechanics Course 2 ***
*Or equivalent - Prior permission required
** Any course from the TERM Track
*** Any course from the Biomechanics Track