2021 Camp Dates:
July 12 -16 (Students entering grades 6-8) *
July 19 – 23 (Students entering grades 6-8) *
July 26 – 30 (Students entering grades 9-12) *
August 2 – 6 (Middle / High) *
*Requirements for free registration to the 2021 CampBioE program:
You are eligible to receive free registration to the camp if your household qualifies for the National School Breakfast and Lunch Program for Pennsylvania. The eligibility guidelines are based strictly on household income and can be found at https://www.benefits.gov/benefit/2013. If you qualify for free registration, please indicate that on your application. You may be asked to provide proof at check-in on the first day of camp. Any questions may be addressed to campbioe@pitt.edu.
Join the waitlist:
If registration is full for the week that you're interested in, you can join the waitlist here.
2021 Camp Location:
The 2021 program will be held virtually.

Camp Description: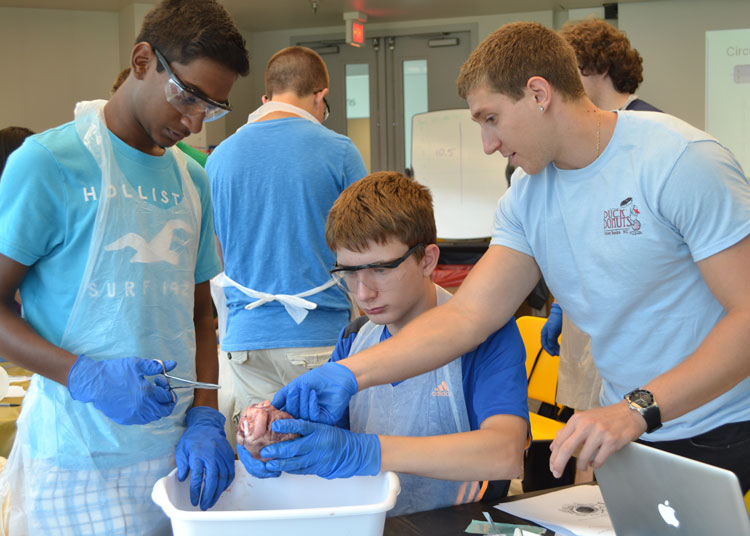 Middle and high school students can participate in a one-week summer camp like no other – one that submerses them in bioengineering and regenerative medicine, a field that utilizes aspects of the natural world – such as the mechanisms starfish use to repair injured arms and reptiles use to heal injured tails - to explore how these traits can be translated to human medicine and treatment. The camp is designed to not only expose students to science, but to show them that STEM can be fun, exciting and something that they could pursue as a career.
Camp Leadership and Counselors: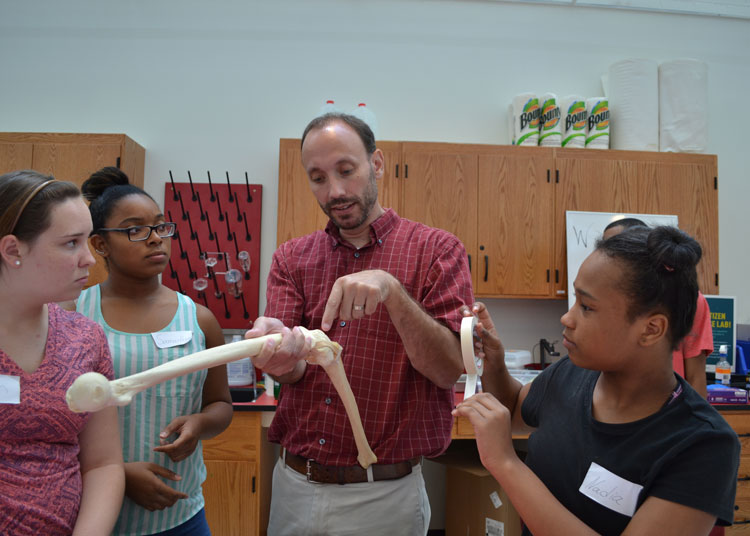 CampBioE is led by a cohort of experienced STEM education professionals as well as several Pitt bioengineering undergraduate students who act as camp counselors for the week. For two months prior to camp, Pitt faculty help the counselors design and develop learning modules that engage the campers. In addition, the undergraduates participate in further discussion and exploration by sharing their experiences as college students, including the path they took to get where they are today.
At-Home Experience: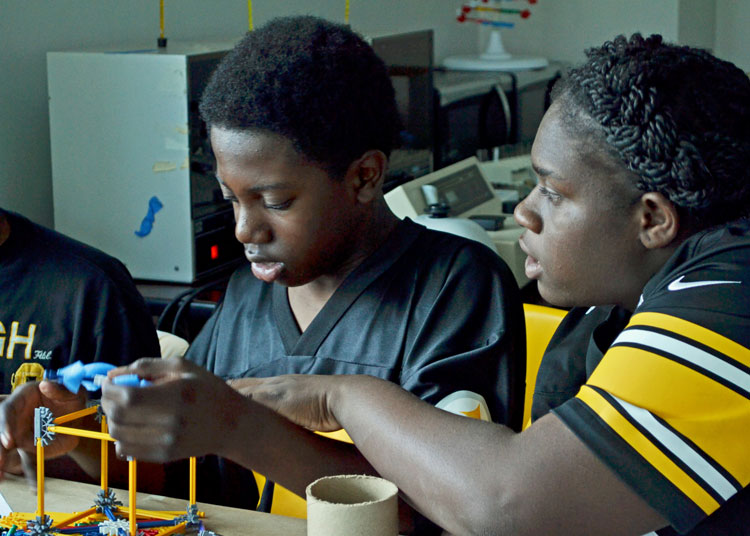 Campers will gain hands-on experience through virtually led experiments designed by the counselors to engage the students in different aspects of science and engineering. During the week, each counselor gives a brief presentation and guide describing their experiment then the students work as a team to complete and test the module. Examples of past in-person modules include chicken skin graphing, suturing a pig's heart, programming an Arduino board to create a mini-catapult, and creating a bone scaffold.
Diversity Initiative:
CampBioE is a champion of diversity in the fields of science, engineering, mathematics, and medicine. We are proud that we have been able to achieve approximately equal participation in terms of gender over the years. Yet, we still face challenges related to the participation of students from ethnically and socioeconomically diverse backgrounds. Please inquire about opportunities for underrepresented/minority (URM) students (defined below) and economically disadvantaged families (annual household income <30K) by contacting (campbioe@pitt.edu).
Definitions by the National Science Foundation, National Institutes of Health: The Higher Education Act defines the term "minority" as an American Indian, Alaskan Native, Black (not of Hispanic origin), Hispanic (including persons of Mexican, Puerto Rican, Cuban, and Central or South American origin), Pacific Islander, or other ethnic group underrepresented in science, engineering, mathematics, and medicine.
CampBioE Leadership
Dr. Steven Abramowitch
Camp Director
Dr. Sanjeev Shroff
Department Chair, Bioengineering
Mark Krotec
Camp Master Educator
Juel Smith
Camp Mentoring and Education Specialist

Times:
Monday-Friday 9:00-12:00
Registration (Opens Early May 2021):
Complete Registration Forms and Payment by June 1, 2021: $50
(if space allows) Complete Registration Forms and Payment after June 1, 2021: $100
We are very grateful to our sponsors who allow us to bring these camps to you every year at a significantly reduced rate. If you wish to donate to our camps you may do so by contacting campbioe@pitt.edu.
---
Center for Biotechnology and Bioengineering (CNBIO)
300 Technology Drive
Pittsburgh, PA 15213
Contact Kim Trost (campbioe@pitt.edu)
Program Manager
If you would like to make a contribution to CampBioE or become a sponsor, please contact Glenn Peterson (glennp@pitt.edu)