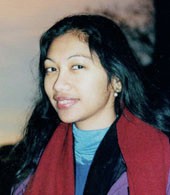 Assistant Professor
Graduate School of Public and International Affairs
Shanti Gamper-Rabindran is an Associate Professor at the Graduate School of Public and International Affairs (GSPIA) and Department of Economics at the University of Pittsburgh. In 2014 and 2015, she convened a leading group of academics and policy analysts, with in-country expertise on the intersection of energy, environment and development issues, to examine shale development in five continents, culminating in an edited book project. She has presented research in China, the UK, Germany and Italy. Her current research focuses on the political economy barriers and opportunities in the energy transition to renewables and on the cities' transition to a low carbon economy.  
Her research, which applies GIS and econometrics, to empirically evaluate the effectiveness of policy tools (e.g. corporate social responsibility and information disclosure programs) and the effectiveness of public goods (e.g. piped water provision in Brazil) has been published in leading journals in environmental and development economics. Her research has been funded by the NSF, the NIH and the EPA. She has undertaken work for the EPA, the World Bank and Human Rights Watch Americas.  She has served as the Bley Stein Visiting Professor at the Arava Institute for Environmental Studies and as a Visiting Associate Professor at Carnegie Mellon University.  
She helped launched the Masters-level program in Energy and the Environment at GSPIA and the university-wide certificates in Global Health. She teaches courses in Economics of Development, Global Energy, Global Environment, Global Health, and Global Economy. She holds a Ph.D. in Economics from MIT; she completed an M.Sc. in Environmental Management and a B.A. in Jurisprudence at Oxford University as a Rhodes Scholar. She also holds an A.B. in Economics and in Environmental Science and Public Policy from Harvard.
Website