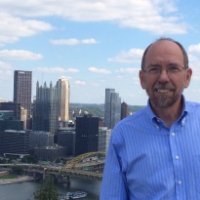 Vice President, Industrial R&D
Veolia Water
Mr. Blumenschein received his Bachelor and Master degrees in engineering from the University of Pittsburgh. He is currently the Director Aquaculture Business Development and is responsible for developing solutions for large-scale land based aquaculture projects. This includes evaluating water and wastewater treatment technologies, preparing feasibility studies working with other Veolia Business Units to develop biological plans for the fish farms and evaluating the potential for implementation of these systems.
Prior to his current position, Mr. Blumenschein was the Technical Director involved in conceptual process design of: physical/chemical wastewater treatment systems for the steel, electroplating, and chemical industries; biological treatment of contaminated wastewaters for the oil and gas, food processing, and steel industries; as well as, advanced treatment technologies for water and wastewater recycle systems. He has been actively involved in the development of new technologies and improvement to existing technologies. He has acted as an expert witness on behalf of industrial clients.
Mr. Blumenschein has published and presented more than 40 papers on a variety of topics pertaining to water and wastewater treatment and has fourteen U.S. patents.