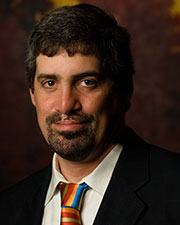 Director of Sustainability
University of Texas at Austin
Jim Walker was appointed the Director of Sustainability for the University of Texas at Austin in April, 2009. He works closely with the President's Sustainability Steering Committee on implementation of the UT Austin Sustainability Master Plan and is the university's USGBC Liaison and  owner's representative regarding LEED and SITES on new capital projects.    
Jim has a Masters in Community and Regional Planning from the University of Texas at Austin and is a member of the American Institute of Certified Planners. In 2011, the AIA Austin Chapter presented him the Edwin Waller Award for Public Architecture and the Texas Society of Architects granted him Honorary Membership.  
Jim currently serves on the boards of the Mueller Foundation, the USGBC Texas Chapter, Earth Day Austin, and as Chair of the City of Austin Joint Sustainability Committee working on implementation of the Austin Community Climate Plan.   
Jim is originally from Oregon and accidently moved to Austin in 1992. He was soon introduced to sustainability by Pliny Fisk and Gail Vittori, LEED Fellow, at the Center for Maximum Potential Building Systems, and soon after by Lars Stanley, FAIA, LEED AP and Girard Kinney, AIA.