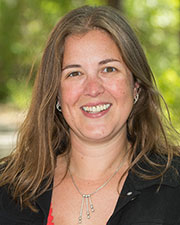 Dr. Aurora Sharrard is the Director of Sustainability at the University of Pittsburgh, tasked with enabling the University's first Sustainability Plan, which was developed with the guidance of a broad-based committee of faculty, staff, students, and administrators in accord with the University's strategic priorities.  Formalizing decades of green initiatives, the Pitt Sustainability Plan outlines a host of measurable goals including reducing greenhouse gas emissions, incorporating sustainability into the curriculum, sharing progress publicly, and creating a culture of sustainability on campus.
As such, Dr. Sharrard leads the newly formed Office of Sustainability in support of University-wide sustainability strategy, activities, policies, collaborations, and partnerships. She builds on existing successes to position the University of Pittsburgh as a sustainability leader at the city, state, regional, national, and international scales.
Prior to joining the University, Dr. Sharrard worked at Green Building Alliance (GBA) for 11 years, ultimately serving as its Executive Director.  She led the nonprofit organization in advancing innovation in the built environment by empowering people to create environmentally, economically, and socially vibrant places.  With a staff of 14 and an annual budget ~$2 million, GBA is one of the oldest regional green building and organizations in the United States, with a focus on innovative, evidence-based, and collaborative work throughout Western Pennsylvania.  
In her time at GBA, Dr. Sharrard co-founded the Pittsburgh 2030 District, which boasts 500+ buildings aspiring towards measured high performance of 50% reductions in energy use, water consumption, and transportation emissions by the year 2030.  The University of Pittsburgh was a Founding Property Partner of the Pittsburgh 2030 District's Oakland boundary – and embraced 2030 Challenge goals University-wide with the Pitt Sustainability Plan. A nationally recognized green building and sustainability expert, Dr. Sharrard has provided strategic and technical support to innumerable regional green building and sustainability projects, most notably Hazelwood Green, the David L. Lawrence Convention Center, and Phipps Conservatory and Botanical Gardens.  
Starting in 2007, Dr. Sharrard led several other notable GBA programs, including the Pittsburgh Climate Initiative (PCI), Product Innovation Grants, DASH, and Pittsburgh Green Story. Dr. Sharrard convened PCI and the Higher Education Climate Consortium for a number of years, helping deliver three Pittsburgh Climate Action Plans and two citywide greenhouse gas inventory; she is still an active PCI Partner.  With GBA's Product Innovation Grant program, Aurora led award of $1.2 million to 24 recipients working to commercialize innovative green building products across Pennsylvania.  Through 2012, Aurora spearheaded the GBA-led national conversation to build DASH: Database for Analyzing Sustainable and High Performance Buildings.  This evidence-based web tool worked to provide building industry professionals with building performance information that enables better decision-making about building design, construction, operations, and maintenance across the triple bottom line.  In 2017, Dr. Sharrard relaunched Pittsburgh Green Story, a media-focused effort to promote the region's sustainability achievements and advantages. 
Dr. Sharrard serves on the Southwestern Pennsylvania Commission, Fair Shake Environmental Legal Services' Board of Directors, the Greater Pittsburgh Nonprofit Partnership's Advisory Team, the International Living Future Institute's Pittsburgh Living Product Hub Advisory Council, and the Allegheny Conference on Community Development's Community & Sustainability Committee.  She still finds time to peer review papers for academic journals and has multiple academic and nonacademic publications of her own.
Dr. Aurora Sharrard holds a Master's and PhD in Civil and Environmental Engineering with an emphasis in Green Design from Carnegie Mellon University, as well as a Bachelor's degree in Civil Engineering from Tulane University.  She has previously been recognized with the Pittsburgh Magazine 40 Under 40 Award, Pittsburgh Business Times Women in Energy Award and BusinessWomen First Award, and 40 Under 40 Pennsylvania Environmental Leaders Award.  Dr. Sharrard was also a finalist for the Greater Pittsburgh Athena Young Professional Award and is an alumna of Leadership Pittsburgh.  She is a LEED AP (BD+C) and is Living Future Accredited (LFA).    
Aurora lives in Pittsburgh with her husband Jesse and sons, Angstrom and Faraday.  She loves breakfast, enjoys costumes, and looks forward to someday completing renovations on her 113-year-old house.